Pet chain in administration with the loss of 122 jobs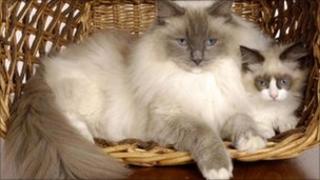 Pet store company Acorn Pets (UK) Ltd has entered administration for the second time in less than two years.
Administrators Begbies Traynor have closed 16 of the firm's stores - with the loss of 122 full and part-time jobs.
Six stores - employing 41 people - will continue to trade while a buyer is sought.
The directors of the firm took ownership of Acorn Pets following the previous administration in 2009.
The Scotland-wide company has struggled against supermarket competition and had run into cash flow problems.
Joint administrator David Menzies said: "The business has struggled to recover from the administration in 2009 and the resulting cash constraints, and the management team have been unable to make the business work in the face of increasing competition, particularly from supermarkets."
He added: "We are already seeking a buyer for the scaled down business and we hope that without the drain on resources of the loss-making stores we will be able to secure a long-term future for the six remaining outlets."
The six stores that remain open are based in Ayr, Cowdenbeath, Dunfermline, Inverness, Kilmarnock, and Glasgow.