Glasgow council plea to unofficial royal wedding event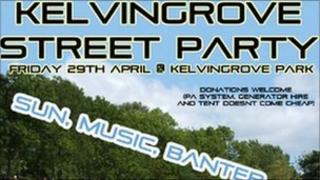 Glasgow City Council has warned people not to go to an "unsafe and unofficial" party in Kelvingrove Park on the day of the royal wedding.
More than 10,000 people said they would attend the "Kelvingrove Street Party", which was organised through Facebook and other websites.
A council spokesperson said: "We strongly urge people to find a safer alternative way of celebrating."
Event organisers must get approval from the council to use the park as a venue.
The council said: "there are concerns that huge numbers of people descending on Kelvingrove will cause disruption and disturbance for other park users, including families."
'Health and safety'
The Facebook event page says the celebrations will take place from 1100 BST on the day of the royal wedding and will continue until 0300 BST on Saturday morning.
Organisers have written about taking sound equipment, generators and DJs along to the unofficial party.
Some of those planning to attend have commented on the council's warning. One person said: "health and safety...always trying to spoil people's fun and cause a moral panic"
The council requires that anyone wishing to organise an official event in the park must prove they can provide first aiders, public toilets, stewards and public liability insurance.
A spokesperson said: "This event was organised without involvement or consent form the council and we have genuine safety concerns for anyone attending."