Salmond reports 'progress' over Moore meeting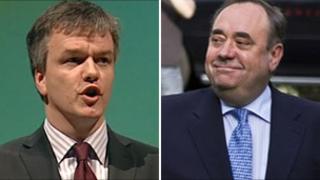 The Scottish government has made progress in its bid to secure even greater borrowing powers for Holyrood, according to Alex Salmond.
He made the comment after a meeting with Scottish Secretary Michael Moore, saying Mr Moore had shown interest in calls to devolve the Crown Estate.
However, Mr Salmond said the Scottish secretary was hesitant on handing over control of corporation tax.
The meeting was the first between the pair since the SNP election win.
The talks concentrated on SNP demands for "more teeth" in the Scotland Bill, which is currently passing through Westminster.
The legislation, which was examined in Holyrood during the last parliament, will devolve more tax and borrowing powers.
However, the SNP has called for even greater borrowing powers to be included, alongside control over corporation tax and the Crown Estate.
The party has already urged Prime Minister David Cameron to increase Scotland's financial powers, and Thursday's meeting offered Mr Salmond the first chance to press the UK government on the matter.
'Positive and constructive'
He said: "We have agreed on a process whereby we are submitting evidence on the three areas we have identified and the secretary of state is going to come back to us after consultation with the prime minister, the chancellor and his colleagues.
"My impression was there seemed to be more progress with borrowing than corporation tax.
"My view on this is that I am very happy to be positive and constructive, but these are things on which the Scottish people has spoken.
"We are talking here about additions to the Scotland Bill to make it something that the people have voted for and which the Scottish Parliament can accept."
He added: "Borrowing powers there seemed to be quite a bit of progress, the Crown Estate, he seemed very interested, corporation tax, there seemed to be an element of hesitation."
Mr Salmond said progress would have to be made quickly, with the Bill due to come back before the Scottish Parliament in September.
He said the Scottish government would submit evidence on the three areas of discussion over the coming weeks as part of a "quick decisive process".
Mr Moore said the meeting had been "constructive and engaging", covering the Scotland Bill, the referendum on independence and how the two governments could work together.
The Nationalists took 69 of the 129 seats to give them the Scottish Parliament's first working majority.
Meanwhile, Westminster's Scottish Affairs Committee has announced more details of its forthcoming inquiry into the Crown Estate in Scotland.
The cross-party committee will look at whether the Crown Estate Commissioners serve a useful purpose, as well as their role and mandate.