Ash cloud casts shadow over Glasgow airport passengers
By Hannah Livingston
BBC Scotland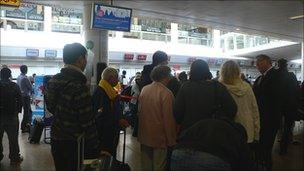 There's an invisible grey spectre patrolling the air over Scotland.
The ash cloud erupting from Iceland's Grimsvotn volcano has travelled more than 800 miles to ground flights setting off from Glasgow airport.
Travellers in Scotland are waiting and hoping that there's still a way to get away.
Sitting on a suitcase next to the airport escalators was Julieanne Spence from Cambuslang with her husband David, daughter Poppy, 18 months, and son Jamie, four.
She said: "We've been here since six this morning so we're heading up for six hours now and I'm here with my two young kids and my husband, so it's been a bit of a nightmare keeping them occupied.
"We've been told that our coach will be taking us to Manchester soon to fly from there.
With all flights grounded from Glasgow, the airport is now acting as a hub for travellers.
Most arrive, check in, wait, then depart for another airport.
Director of Glasgow airport, Amanda MacMillan, said that high concentrations of ash from 1300 BST to 1900 BST would "severely limit movements this afternoon".
But UK transport secretary, Philip Hammond, said that volcanic ash might be another aspect of travelling that passengers will have to get used to.
He said: "What I'm hearing from the experts is that after a period of relatively little activity in Icelandic volcanoes it now looks as though we are now going to face a period when there is quite a lot more activity and that could be over the next few years, perhaps over the next few decades.
"So, I think it is something that we have to get used to, we have to learn to manage."
Meanwhile, many of the people in the airport were literally waiting to find out whether they were coming or going. And from which airport.
Bags surrounded a group of exchange students sat slouched around a table, reluctantly playing a card game and dipping their hands into a large bag of shared crisps.
An older couple wearing matching khaki coats sat next to each other reading different parts of the same newspaper.
Sat facing an amusement arcade were the Dunn family from Kilmarnock.
Elaine Dunn said: "When we first came this morning the place was littered with people because there were so many flights not going.
"We didn't even have a seat for the first couple of hours.
"We were unlucky and had to sit on the floor over there before they got more seats in.
"As the morning's gone on the place has emptied slightly with people going to Manchester.
"I just hope we get along sooner rather than later."
Related Internet Links
The BBC is not responsible for the content of external sites.