Scottish beach cleanliness below UK average
By Hannah Livingston
BBC Scotland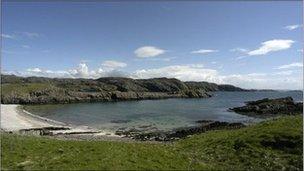 The Marine Conservation Society (MCS) has said the cleanliness of Scottish beaches is below the UK average in its annual Good Beach Guide.
The society sampled 110 beaches and gave only 50 an excellent bathing water quality rating.
Seven beaches failed to reach minimum legal water quality standards, which is still an improvement on last year's 13 failed beaches.
But five excellent Shetland beaches were recognised for the first time.
Some beaches that were awarded the blue flag, which recognises high quality beaches across Europe, were not given as high recommendations in the good beach guide.
St Andrews East sands in Fife was given a blue flag last week, but failed to reach the MCS' basic water quality standards.
So why are the MCS results different?
MCS spokesman Calum Duncan told the BBC Scotland news website: "The good beach guide is the only award focusing purely on water quality, established by MCS to help drive up water quality standards which we felt were not tough enough.
"The MCS recommendation is a higher standard than other beach awards since we don't recommend any beach that has had any sample fail the minimum legal European standard and we consider all samples, including those which can legally be discounted when reporting back to Europe due to extreme rainfall events."
MCS said the quality of beaches could be lower after heavy rainfall because of combined sewer overflows (CSOs).
CSOs are an emergency diversion system that allow excess water from the land to run in to underwater pipes that normally carry sewerage.
The resulting diluted waste is then diverted to the sea rather than flooding homes.
Mr Duncan said: "We know of at least 120 Scottish coastal sites with one or more of these pipes.
"There are many places where they don't cause a problem but 55% of tested beaches aren't recommended by MCS because of pollution.
"We believe that CSOs are partly to blame.
"We want all of these pipes mapped and monitored, and for the public to be told at the time when, and for how long, the sewage is flowing.
"Mapping costs relatively little yet it could make the difference between an enjoyable trip to the beach or one that ends up in A&E with ear, nose and throat infections or stomach upsets."