Putting the children before the state
Brian Taylor
Political editor, Scotland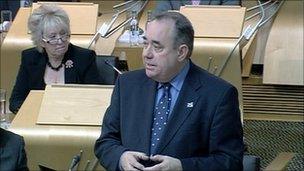 According to the first minister, the community comes before the constitution, "the children before the state".
To be clear, this was not the formal Programme for Government, listing planned legislation. That will come in the autumn - although Mr Salmond confirmed that the first two bills will seek to combat "bigotry and booze".
Of those, he hopes to introduce anti-sectarian measures - as discussed yesterday - in time for the opening of the new football season.
Opposition leaders warned they would need early and detailed consultation before they would agree to such hasty law-making.
On booze, ministers will reintroduce the minimum unit pricing elements of the alcohol bill which failed to carry in the last parliament.
But this was more an opportunity to display the philosophical underpinning to that forthcoming government programme.
Much from Mr Salmond about a "social wage". It is a phrase commonly distrusted by the Right, in that they argue it can involve enhanced state control and hand-outs, rather than any form of earned entitlement or "wage".
On this occasion, Mr Salmond placed it in a specific context - and with a specific contrast.
The context was public spending constraint - and particularly the wage freeze being endured by many in the public sector.
To alleviate such difficulties, Mr Salmond argued, it was vital to provide continuing compensation in the form of public benefits - such as free personal care, free prescriptions, free travel.
A counter case could be made by some that such universality of provision benefits the relatively well off more than the poor - in that the low-waged might expect such benefits in any case under a targeted system.
To contest such arguments, Mr Salmond turned to a contrast: that between the approach he plans in Scotland and his vision of what is happening south of the border.
His vision, of course, would be disdained as a caricature by those in government at Westminster.
But Mr Salmond insisted it was accurate - and disowned by Scotland.
He said that in England "the tolerance of the poor is being tested - budgets slashed, priorities changed, hope crushed in the braying tones of people who claim to know best."
Note that word "braying" - a deliberate allusion to the Woosterish upper classes.
By contrast, he depicted Scotland as communitarian by instinct.
So "children before the state" is the offer. But, of course, there was a thoroughgoing constitutional element to the speech.
Indeed while proclaiming community before constitution, Mr Salmond noted that "it happens" that Scotland required full powers in order properly to pursue such a course.
To be clear, Mr Salmond is genuine about the communitarian approach, about the social wage. It fits with his personal creed and political history.
Equally, though, he is fitting that cause within the context of an equally entrenched ambition - that of independence.
In essence, he is working with the grain of what he perceives to be Scottish opinion en route to that wider ambition.
As in the last parliament, he seeks to govern in a manner that he believes will command approval.
On this occasion, he will have the opportunity then to seek approval for his aim of independence.
He said today: "We are not rushing this journey, but don't let our steady pace fool anyone into thinking we are not determined."