Former MP Jim Devine mileage expense allegation dropped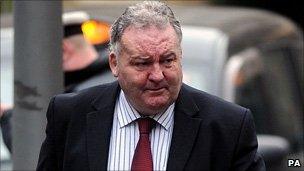 The final expense allegation hanging over ex-Labour MP Jim Devine have been dropped by the commons standards commissioner John Lyons.
Devine was found guilty of using false invoices for cleaning and printing work in February.
He was sentenced to 16 months in prison for fraudulently claiming £8,385 in parliamentary expenses.
Inquiries have now been closed into further allegations concerning misuse of mileage allowances.
It was alleged that he claimed mileage costs under his parliamentary expenses but did not pass reimbursements on to Marion Kinley, his office manager at the time, who said she had paid the original mileage costs.
The claims of misconduct were accepted by an employment tribunal in which Marion Kinley was awarded £35,000 in compensation.
Ms Kinley has not yet received the full £35,000 she was originally awarded and sought to have his assets sequestrated in order to get payment.
Ms Kinley is now involved in a £75,000 defamation case against her former employer.
Devine is to be given time by the Court of Session in Edinburgh to seek legal aid.
He accused Marion Kinley at his trial of forging his signature, paying herself a bonus and was also alleged by Devine to have a gambling addiction.
Devine's lawyers refused to comment on the action.
Related Internet Links
The BBC is not responsible for the content of external sites.