Water voles back in the Trossachs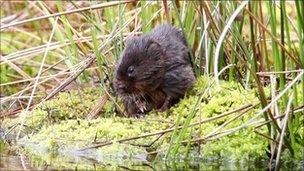 A project to reintroduce water voles to the Trossachs after a 30-year absence has been a "great success", conservation experts have said.
Numbers of the mammals in the area declined because of habitat loss and being hunted by American mink.
Voles were released in several areas of the Loch Ard forest near Aberfoyle, Stirling, three years ago.
James Silvey, from the Trossachs Water Vole Project, said the voles now had an "established population" in the forest.
He said: "The water vole is Britain's fastest declining mammal with populations having gone through a catastrophic decline of over 90% since the 1950s.
"Since the first release in 2008 a dedicated team of project staff and volunteers have surveyed the released water voles, which is how we know how well they've been doing today.
"Survey results show that all original release sites still contain a significant population of water voles. In addition, 10 brand new areas where water voles have dispersed to by themselves have also been recorded."
The project, led by the Forestry Commission Scotland, has just been awarded a £5,000 grant from the Scottish government.
Conservation manager Dave Anderson said: "These amazing creatures are an important part of our ecological heritage.
"They help to increase the diversity of vegetation in riparian areas and their presence will also likely boost the numbers of predators to be seen here, including some rare ones such as barn owls, pine martens and golden eagles."
Other organisations involved in the water vole reintroduction include the Royal Zoological Society of Scotland, Scottish Natural Heritage, Loch Lomond and the Trossachs National Park and water vole expert Derek Gow.
Related Internet Links
The BBC is not responsible for the content of external sites.