Wild bird breeding hit by Scotland's storm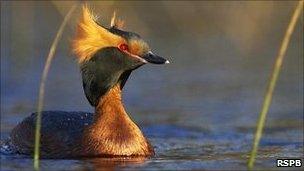 Recent stormy weather could have impacted the breeding success of some wild birds, experts have warned.
Royal Society for the Protection of Birds (RSPB) Scotland staff have been surveying damage caused by gale force winds that hit the country on Monday.
According to the charity, initial reports suggest some ground-nesting birds and those who nest on or near water may be among the worst affected.
Bird of prey nests are also feared to have fallen victim to the conditions.
Heavy rain and winds left more than 1,000 nests on the Insh Marshes nature reserve in the Highlands submerged underwater, including those of wading species such as lapwing, snipe, redshank and curlew
Karen Sutcliffe, RSPB Scotland site manager at Insh Marshes, said: "Waders were already struggling in Strathspey so this is a disappointing blow to the local population.
"A flood mid-April washed away many early nesting attempts.
"Around two-thirds of the birds tried again and, before this bout of bad weather, we had been expecting chicks to be hatching in next few days.
"The water levels are receding now but with the breeding season so far advanced it looks unlikely that many birds will make a third attempt."
Experts working on monitoring projects have recorded problems with rarer species too.
Staff studying the Slavonian grebe, a bird whose UK population is restricted to northern Scotland, found evidence that nests made in sedge beds have been washed away.
Meanwhile, a research programme radio-tagging 16 ring ouzel chicks lost almost half of its subjects due to bad weather.
RSPB reports also paint a concerning picture for some birds of prey, with nests and eggs of red kites, ospreys and eagles damaged or blown from trees.
In one case near Callander in the Trossachs, a red kite nest had been blown about 200ft (60m) out of a wood on to farmland and a dead chick was found on the ground.
Keith Morton, RSPB Scotland's species policy officer, added: "For birds that are already under pressure because of chronic threats to their habitats, or because they are just numerically very scarce, this sort of event is more worrying."
Many surviving chicks and fledglings, including birds of prey, found by members of the public after being blown from their nests during the storm were taken to the Scottish SPCA's Wildlife Rescue Centre in Fife for care.
Related Internet Links
The BBC is not responsible for the content of external sites.