Call to fund TAVI heart valve treatment in Scotland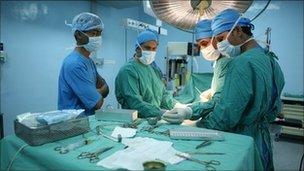 A group of leading heart doctors has called for a change in the treatment of patients considered too high-risk for open-heart surgery.
The Scottish Cardiac Society has urged the Scottish government to fund the transcatheter aortic valve operation.
The surgery inserts a valve through a small incision in the groin or chest.
The Scottish government said a recent review found limited evidence to support the procedure's introduction but a further review would take place.
Transcatheter aortic valve implantation (TAVI) is used to treat patients with aortic stenosis, a condition in which the heart's aortic valve does not open fully and blood flow is restricted.
There is currently no TAVI centre being funded by the NHS in Scotland.
The society said teams at the Royal Infirmary of Edinburgh and the Golden Jubilee National Hospital in Clydebank have the facilities and expertise but lack the funding.
They have written to the Scottish government after figures showed about 20 Scottish patients had been sent to London and Leicester to receive treatment.
Professor Keith Oldroyd, a consultant cardiologist in Glasgow, said failing to provide TAVI to patients who are suitable for it cannot be justified.
He added: "TAVI is a proven technology giving normal lives back to the people who receive it. There is increasing evidence that it is cost-effective in this carefully selected high-risk population.
"There is nothing more upsetting and frustrating for clinicians than to have the skills to give a patient the treatment they need and be denied the opportunity, particularly when it is widely available everywhere else."
There are currently about 100 patients in Scotland who have been deemed suitable for the TAVI procedure.
Health Secretary Nicola Sturgeon said: "The ongoing success of NHS Scotland in tackling heart disease is reflected in the 59% reduction in premature deaths from the condition over the past 14 years.
"The most recent review of TAVI found that there was limited evidence to support its introduction in Scotland, however I have asked that a further review be undertaken to assess the most up to date research."
Related Internet Links
The BBC is not responsible for the content of external sites.