Legionella bacteria detected in train toilet systems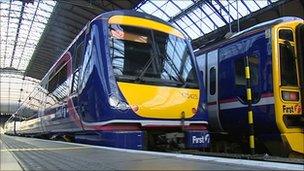 Traces of legionella bacteria have been found in the toilet water tanks of two Scottish trains.
ScotRail confirmed it had detected the bacteria - linked to the deadly form of pneumonia Legionnaires' disease - after an inspection of 15 tanks.
Train operators across the UK analysed 150 systems for the bug, with one in three testing positive for legionella.
Health Protection Agency (HPA) said the risk to the general population was considered extremely low.
A spokesman added: "The HPA is not aware of any studies linking legionella in railway vehicles to cases or outbreaks of Legionnaires' disease.
"The HPA is not aware of any cases of Legionnaires' disease associated with rail travel."
In recent weeks there have been three deaths known to have been caused by Legionnaires' disease in Scotland, however there are no known cases of the illness being contracted on a train.
Infection is caused by breathing in small droplets of contaminated water, and the disease cannot be passed from one person to another.
A ScotRail spokesman said the firm had taken "immediate action" and it was working to disinfect all of its water tanks.
He said: "We received an industry-wide report that confirmed legionella bacteria within the toilet water tank of another operator's fleet.
"Two cases were found. Both were chlorinated and the bacteria eradicated.
"As a precaution, we are disinfecting all toilet water tanks and asked an independent, specialist company to take samples."
A spokesman for the Association of Train Operating Companies (ATOC) said train operators across the UK were continuing to take appropriate action to deal with the issue.
He added that on-train air conditioning systems are of the "dry" type - and therefore not comparable with building air conditioning systems which have been the source of legionella outbreaks in the past.
Legionella is a naturally occurring bacterium found in waterways such as rivers, lochs and ponds and is killed by high temperatures.
Related Internet Links
The BBC is not responsible for the content of external sites.