Tesco mistake leads to beer rush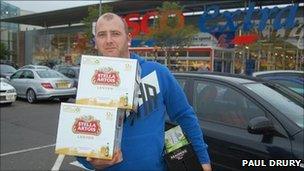 An error which slashed the price of beer and cider led to a stampede of customers at a number of Tesco supermarkets in Scotland.
A deal offering three boxes of various alcoholic drinks for £20 was going through the tills at three for £11.
Police were called to Tesco in Greenock after heavy congestion was reported in the car park as customers rushed to get the deal.
A spokesman for Tesco said the pricing error was quickly spotted.
He said till operators changed the prices manually until the system was corrected.
It is understood the offer was supposed to be "buy three boxes of beer and save £11".
Instead customers were able to purchase up to 45 small bottles of lager or 36 cans for £11.
News of the error spread quickly from about 1900 BST, with many people posting messages on social networking sites.
There were also problems at a store at the Silverburn shopping centre in Glasgow and in Bellshill.
One customer said the situation was "bedlam" as people phoned their friends and some went home to change clothing to come back and buy more beer.
Twitter user Graham McKenzie tweeted: "Price glitch for beer has literally caused a stampede at the local Tesco. Tempers are flying in car park."
Rebecca Macdougall tweeted: "Was casually chatting to my dad about the beer situation at Tesco mention 3 crates for 11 quid and he sprints to the car."