'Cold case' unit to be set up to tackle unsolved crimes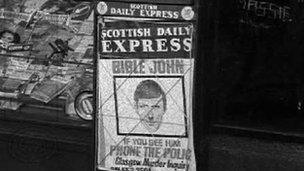 A special "cold case" unit is to be set up to tackle Scotland's unsolved murders and other serious crimes.
Lord Advocate Frank Mulholland said the specialist unit would review unsolved cases to identify those which merit a fresh investigation.
New forensic techniques, including DNA, improved ballistics and fingerprint databases will be used.
Mr Mullholland said: "Justice will pursue down the years those who have so far evaded detection for their crimes."
He added: "The passage of time should be no protection.
"We will not give up and will seek to identify the perpetrator using new forensic and other investigation techniques and prosecute them for their crimes.
"No-one should escape the consequences of their criminality and the grief this brings to victims and their families."
He said the new unit would work with local prosecutors and the police to identify unsolved murders for renewed investigation.
Mr Mulholland highlighted the conviction last month of Malcolm Webster who murdered his wife in 1994.
He said: "Malcolm Webster was convicted for the murder of his wife which he committed 17 years ago, a crime for which he believed he had escaped punishment.
"I do hope that such convictions and our determination to pursue criminals provides some reassurance and comfort to the family and friends of the victim."
Strathclyde Police are now reviewing the murder of Elaine Doyle in Greenock 25 years ago, when Mr Mulholland was a prosecutor in Greenock.
Mr Mulholland said: "Elaine was brutally murdered in Greenock 25 years ago today.
"I well remember the case and its impact on the local community and indeed across central Scotland.
"The police are determined to track down her killer and I fully support their efforts."
He urged anyone with information about the case to contact police.
Other notorious murders which remain unsolved include those in Glasgow in the 1960s which were said to have been carried out by the man known as Bible John.
The initiative was welcomed by the Association of Chief Police Officers in Scotland (Acpos) and the Scottish Police Services Association (SPSA).
Strathclyde Police Assistant Chief Constable George Hamilton, who is secretary of the Acpos crime business area, said: "Through scientific advancement and re-interviewing of witnesses, positive progress has been made in recent years in bringing some unresolved matters to a successful conclusion.
"The introduction of this national unit will further assist and support both the investigation and prosecution of unresolved matters which continue to impact significantly on those families and communities directly affected."
Tom Nelson, director of SPSA Forensic Services, said: "Rapid advances in forensic techniques have changed the parameters of forensic science dramatically.
"Technological advancements such as improved ballistics and fingerprint databases and DNA techniques means we are able to revisit material obtained from the original investigation providing officers with a new avenue to investigate that could be the key to unlocking a cold case."
Related Internet Links
The BBC is not responsible for the content of external sites.