Edinburgh charity shop hit by deliberate fire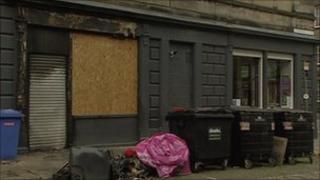 A charity shop in Edinburgh has been badly damaged by fire after a bin was set alight.
The shop in the Meadows area was operated by the Bethany Christian Trust, which works with homeless and vulnerable people.
Lothian and Borders Police have said that they believe the fire was started deliberately.
A woman and a child who were in a flat above the shop were treated at the scene for smoke inhalation.
The alarm was raised just before 2200 BST on Saturday.
The shop was part of a four-storey tenement building in Summerhall Place.
The fire was tackled by 16 firefighters, with three tenders and a turntable ladder.
They brought the outbreak under control shortly before midnight.
Lothian and Borders Police, who have started an investigation, have asked anyone who was in the area around 2200 BST to contact them.