Fewer new Scottish teachers find permanent jobs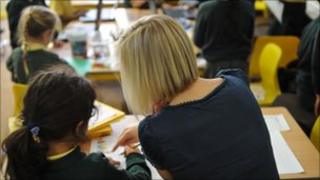 Concerns have been voiced that only one in five new teachers in Scotland found permanent, full-time jobs after qualifying in 2009-10.
The figure was revealed in a General Teaching Council for Scotland (GTCS) survey of 1,222 former probationers.
Its chief executive, Anthony Finn, said there was a clear "cause for concern".
But Scotland's Education Secretary Mike Russell insisted the figures did not reflect the current situation for new teachers.
He added: "The latest Job Seeker Allowance figures show that we are beginning to see real progress in tackling teacher unemployment with year-on-year teacher unemployment in Scotland falling for the eighth month in a row.
"Teacher unemployment remains lower in Scotland than anywhere else in the UK."
All newly-qualified teachers in Scotland are guaranteed a "probationary" year teaching in a school.
After that employment within the education sector is not guaranteed.
The GTCS survey, which takes place annually, revealed that more new teachers have no job at all compared with the previous year, up from 13.5% to 16.2%.
The feedback from those who took part in the exercise further showed that the proportion of those securing part-time, permanent contracts also fell, to 2.4%. The previous year's rate was 4.5%.
Full-time contracts as supply teachers were offered to 8.6% of probationers, up from 6.2%, while those who became part-time supply teachers increased from 3.6% to 5.4%.
Out of the 2,914 probationers in 2009/10, 1,222 responded to the survey.
Commenting on the survey findings, Ronnie Smith, general secretary of teaching union EIS, said: "These are a particularly alarming set of figures, which illustrate just how difficult it is for new teachers to secure a permanent job upon completion of their induction year.
"With just one new teacher in five securing a full-time permanent job, the situation for new entrants to the profession and for Scottish education as a whole is particularly bleak."
Create more jobs
Ann Ballinger, general secretary of the Scottish Secondary Teachers' Association (SSTA) called for a freeze in teacher training to allow the current glut of trainees without jobs to get work.
She said the problem was that many people assumed older teachers would retire early but they were unable to because of the recent financial downturn.
The General Teaching Council for Scotland's findings have been reported to the Scottish government.
Mr Finn said: "We are acutely aware of the financial constraints faced by public bodies across Scotland and accept that this will impact to a certain extent on teacher employment.
"We must ensure, however, that these highly-skilled new teachers who have been through a teacher induction scheme, described as world-class by the Organisation for Economic Co-operation and Development, are able to find work in the classroom, providing a quality education for our children and young people.
"As part of the recent Scottish negotiating committee for teachers agreement, the Scottish government has agreed with employers to create more jobs for teachers in the coming months.
"If this aspiration is realised, it should make a significant difference to the job prospects of those who have completed or are currently completing probation in Scotland."