Morrissey bans meat at tour venues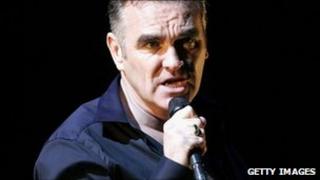 Venues hosting concerts by former Smiths frontman Morrissey on his UK tour have been asked to take meat off the menu on the night he performs.
The vegetarian request was on the "rider" when the concert dates were being booked, one venue manager said.
Animal rights activist Morrissey walked off stage at the Coachella festival in California in 2009 after saying he could smell "burning flesh".
The tour opens at Perth Concert Hall later on Wednesday.
The singer will then play in Inverness, Dunoon, Dunfermline and Hawick, before moving on to further dates in England.
A spokeswoman for Argyll and Bute Council, who manage Queen's Hall in Dunoon, said they had no objection to complying with the request from Morrissey's management.
"We were asked that no meat is prepared, cooked or served at the venue on the day of the concert," she said.
"We were happy to agree to this."
Two other venues - the Alhambra Theatre in Dunfermline and the City Hall in Hawick - also confirmed they had received the request, but said they had no catering facilities on site.
Perth Concert Hall said they were delighted to be welcoming the artist to the venue and confirmed they would be serving vegetarian food on the day of the concert.
In 1985, Morrissey - a vegetarian since his childhood - recorded the track Meat is Murder with the Smiths.