Plan unveiled to improve central belt trains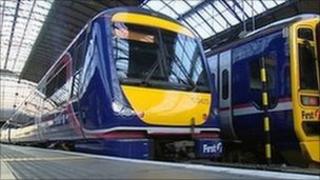 Plans for a £1bn rail investment programme to transform train journeys in central Scotland have been unveiled.
The public is being consulted on a five-year Network Rail project to provide faster, more frequent services.
The scheme will aim to reduce journey times on the main Glasgow and Edinburgh route to 37 minutes and more than double the number of services.
Transport Minister Keith Brown said it would "revolutionise" central Scotland's rail network.
The Edinburgh-Glasgow Improvement Programme (EGIP) will see train services between Glasgow and Edinburgh increase to 13 services per hour, from the current five or six.
The work will include Edinburgh's Haymarket station being made into a modern transport interchange and the electrification of 350km (217 miles) of the existing rail network.
A public consultation on the plans will take place until the end of November.
Stations on the route will be targeted with posters and leaflets as part of the exercise and more than 200,000 leaflets will be distributed across the central belt.
The minister said: "By investing in Scotland's rail network we are offering future generations greener, safer, more efficient services as well as improving economic opportunities, as recent projects like Airdrie to Bathgate demonstrate.
"The launch of this consultation exercise is the start of everyone's opportunity to help shape this programme of improvements."
Ron McAulay, Network Rail director Scotland, added: "The EGIP programme will deliver significant benefits for communities across central Scotland, reducing journey times and increasing service levels across key routes."
EGIP is being funded by Transport Scotland on behalf of the Scottish government, with the new infrastructure financed through Network Rail's Regulatory Asset Base - which borrows against the asset value of the UK rail network.