World's longest tapestry on show in Edinburgh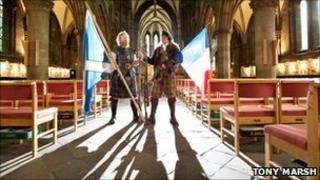 The longest tapestry in the world has gone on display in Edinburgh.
The Battle of Prestonpans Tapestry was created to illustrate the Jacobite rising and is 104m in length.
An official from Bayeux, home of the historical tapestry marking the Norman French invasion of England, has agreed to visit for the official close of the exhibition at the end of August.
The Prestonpans work depicts the early, and successful, part of Prince Charles' 1745 campaign.
His attempt to win the crown began with his landing on Eriskay, and the tapestry shows his journey from there to victory at Prestonpans.
It was completed in 2010, after 25,000 hours of work by 200 volunteers around Scotland.
The opening was marked by a letter from the Mayor of Bayeux, Patrick Gomont.
Jacobite rising
He said: "The town of Bayeux is very proud that the Bayeux tapestry inspired this project.
"Both tapestries were inspired by major historic events: the conquest of England by William the Conqueror in 1066; and the the Jacobite rising of 1745, led by Bonnie Prince Charlie."
The deputy mayor of Bayeux will travel to Edinburgh for the closing ceremony, which will be performed jointly with the Lord Provost of Edinburgh.
Dr Gordon Prestoungrange, who was chairman of the Prestonpans Heritage Trust when it commissioned the work, said: "We are really pleased to get such good wishes from Bayeux.
"Our project was inspired entirely by the Bayeux Tapestry which I had visited many times.
"We were looking for ways to raise the profile of the battle and bring the story to life for future generations.
"This is exactly what the Bayeux tapestry has done since the 11th Century."