Engineers call for investment in infrastructure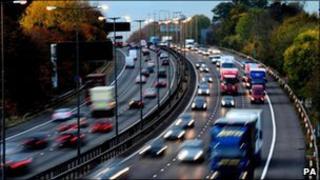 Economic recovery in Scotland is at risk because the country's infrastructure is in need of repair and modernisation, a report has suggested.
The Institution of Civil Engineers (Ice) said significant investment was needed for the transport network and energy and water supply systems.
It also called for greater borrowing powers to be given to the Scottish government.
It said this would help create a "high-quality infrastructure".
The organisation's State of the Nation report graded six crucial elements of the country's infrastructure - water, transport, waste, energy, education and skills and managing flood risk.
Under its scale, a Grade 'A' meant "fit for the future", while a grade 'E' meant the infrastructure was "unfit for purpose".
The water industry scored the highest, with a 'B', meaning "adequate for now". All other areas of infrastructure "required attention" with a 'C' grade.
Education and skills were not graded but the report said more apprenticeships were needed in the construction industry.
'Massive investment'
It pointed out that Scotland currently relied on five ageing power stations - two coal, one gas and two nuclear - to supply about 80% of demand but added they would close within 15 years if no "massive environmental investment" was forthcoming.
Scotland's deteriorating roads also threatened economic growth, the report pointed out, calling for an immediate increase in funding for local authority road maintenance budgets.
In January, Audit Scotland urged the Scottish government to review its infrastructure investment plan to reflect the recession.
The spending watchdog said the 10-year plan, published in 2008, needed to be updated.
The finding was made in a report on major capital projects, outlining a projected drop in investment from £3.3bn a year to £2.1bn by 2014-15.
In launching the State of the Nation report, Ice Scotland chairman Ken Laing said it was clear that investment was required across all sectors.
He explained: "If you look at energy, electricity demand will rise by more than 50% over the next 20 years and yet more than 80% of electricity is supplied by five ageing power stations with very limited life spans.
"We are making good progress with a number of new road schemes but the condition of our existing roads is continuing to deteriorate.
"The Scottish government needs greater borrowing powers to maintain and create a high quality infrastructure if we are not to be hamstrung in our attempts to achieve economic progress."
Mr Laing added: "When faced with investment choices, government has to recognise that without the foundation of good infrastructure, Scotland's economic development is at risk."