Alex Salmond under fire over Supreme Court legal row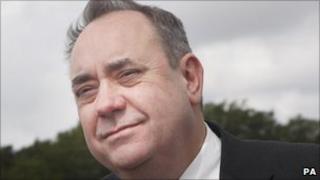 The first minister has come under fire for what have been branded personal and unjustified comments on the legal profession.
It comes after Alex Salmond accused Lord Hope, deputy president of the UK Supreme Court, of "extreme" decisions.
The heads of the faculty of advocates and Law Society of Scotland have called for Mr Salmond to reflect on attacks on members of the legal profession.
Mr Salmond has said he is seeking clarity after a lot of heated debate.
Questions have been raised over the role of the Supreme Court in criminal cases north of the border, which the Scottish government says is undermining the independence of the Scots legal system.
The court has the ability to rule on cases where Scots law conflicts with human rights legislation.
A joint statement from Richard Keen, dean of the faculty of advocates, and Cameron Ritchie, president of the Law Society of Scotland said: "Our judges must be free to decide cases independently, according to law and upon evidence.
"Any attempt to influence the outcome of litigation by reference to political wishes or a politician's perception of popular opinion is a challenge not only to the courts but to the rule of law.
"The Scottish government talks about the unintended consequences of establishing the UK Supreme Court.
"The first minister and the justice secretary need to carefully reflect on the consequences of what are perceived to be repeated and now highly personal attacks on respected members of the legal profession."
A prominent solicitor is also taking legal advice over comments made by Mr Salmond.
The first minister said in a magazine interview that Tony Kelly was making "an incredibly comfortable living" from representing the human rights of prisoners.
Mr Salmond has said the priority was now to bring "light and clarity" to the debate through the independent expert review group set up by the government.
"In all circumstances, ensuring the integrity and certainty of Scots Law is the paramount issue," he added.