Non-mountain rescue call-outs in Scotland rise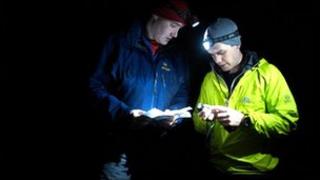 More than a third of all mountain rescue call-outs in Scotland last year were not mountaineering related, figures have shown.
Scottish teams responded to a total of 534 incidents in 2010 - a decline on 2009's figure of 558.
But non-mountaineering call-outs - like missing people searches - rose from 172 to 194, representing 36% of the total.
The figures also show the lowest number of mountaineering accident deaths in 30 years.
There were only 16 fatalities among climbers or hillwalkers, compared with 27 in 2009, the Mountain Rescue Council of Scotland (MRCofS) report said.
The council said volunteers across Scotland's 31 teams had spent 26,600 hours responding to emergencies.
A total of 659 people were assisted by the teams over the year, of which 255 were injured and 45 died.
Jonathan Hart, MRCofS chairman, said the hours spent responding to incidents represented a "huge commitment" from dedicated volunteers who provided a "vital public service".
"Scottish Mountain Rescue are proud to provide a voluntary search and rescue service 24 hours a day, 365 days of the year," he said.
"[It] represents the best traditions of community service and continues to deliver a world class, front-line, voluntary search and rescue service, free at the point of delivery, in the face of increasing demand."
Rescue teams across the UK are made up of volunteers.
In Scotland they are funded primarily by donations but also receive an annual £300,000 grant from the Scottish government which is divided among the teams.
It is the first time in eight years that the number of mountain rescue call-outs in Scotland has dropped - despite indications earlier in the year it could be the busiest on record.
But the number of non-mountaineering related incidents - which also includes a "civic resilience" role in severe weather conditions - continue to rise, and in 2010 made up the highest proportion of call-outs ever recorded.
The committee's membership includes 28 mountain rescue teams and other organisations such as the RAF, Royal Navy, Search and Rescue Dog Association and Scottish Cave Rescue.