Scottish economy 'on the brink' of stagnation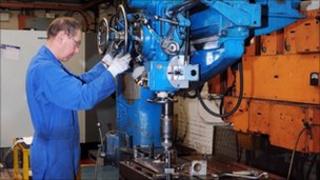 The Scottish economy is threatened with stagnation, the University of Strathclyde's Fraser of Allander Institute (FAI) has said.
Its latest economic commentary has found evidence of continuing recovery, but the rate of recovery is slowing.
The institute said that the main areas of potential growth are improving only slowly, or are static.
The commentary also highlighted the potential dangers involved in Scotland borrowing on the bond markets.
It said that household spending is weighed down by debt and declining real incomes.
Brian Ashcroft, professor of economics at the University of Strathclyde, said: "We are teetering on the brink of what could be a considerable period of Stagnation.
Forecast downgrade
"We have to hope that the forces driving recovery secure the upper hand against the pressures fuelling stagnation, including public spending cutbacks, falling real household incomes, rising energy prices and the spectre of a fragmenting eurozone."
The FAI said that the main hopes for recovery, exports and business investment, are improving slowly or are fairly static.
The gloomy background to this report has led the institute to downgrade its growth forecast for this year and next.
It said it now expects growth, as measured by GDP, of 0.8% this year and 1.5% in 2012.
PwC, which sponsors the commentary, has drawn attention to the potential dangers of Scotland borrowing to finance public sector investment.
Senior partner at PwC in Edinburgh, Paul Brewer, said: "The UK government agreed in principle to Holyrood issuing bonds to raise new funds from capital markets.
Greek debt
"However, this increased fiscal freedom is not without risk.
"Today, the eyes of the financial world are on Greece, where the impact of a potential default on its sovereign debt will have repercussions well beyond the eurozone.
"For Scotland, the question would be who in the financial world would buy new bonds from the auld country and at what price?"
The Scottish government has claimed that the institute's analysis backs its call for increased powers.
Finance Secretary John Swinney said: "With greater access to the key levers or economic growth, such as corporation tax, the Crown Estate and borrowing powers, we could do more to enhance investment and the competitiveness of the Scottish economy."