SNP targets Liberal Democrats after Inverclyde vote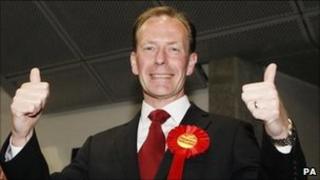 The Scottish National Party has launched a drive to recruit disenchanted Liberal Democrats.
The move followed the Liberal Democrats' poor showing in the Inverclyde by-election.
Labour retained the Westminster seat with a majority of 5,838. The SNP substantially increased its share of the vote but came in second.
The Conservatives came third but the Liberal Democrat vote collapsed. The party's candidate lost her deposit.
The SNP leader Alex Salmond is extending an invitation to former Lib Dem voters, saying they would be welcomed to the nationalist party.
The Scottish parliamentary election in May saw the Liberal Democrat representation at Holyrood reduced from 16 MSPs to five.
Local defections
Mr Salmond said: "There is a rich and radical Scottish Liberal tradition, whose supporters no longer recognise their party, and do not understand why the leadership in Scotland takes the side of the Tories on every single issue.
"There have been several defections to the SNP at local authority level since May's election."
The nationalist initiative has been dismissed by the Liberal Democrats.
Scottish party leader Willie Rennie said: "No matter how they dress up their beliefs, the SNP are essentially inward looking and will stoop to anything to secure their sole purpose - separating Scotland from the UK.
"The SNP are not a liberal party.
"The Scottish Liberal Democrats will be working day and night to restore the faith of voters."