Tall Ships put wind in Campbeltown's sails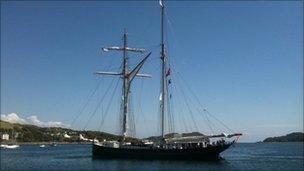 Big celebrations are being planned in the 12 small ports around Scotland where a fleet of tall ships is expected to call on the latest leg of its journey.
The 57 sail-powered vessels are heading from Greenock to Lerwick on Shetland where the next step of their race begins.
One of the first stopping-off points after leaving James Watt Dock is Campbeltown.
Wylde Swan, one of the Class A ships, has been booked for corporate hospitality to launch a scheme promoting sailing in the waters around the Kintyre peninsula.
The town is also preparing to celebrate 150 years of its local lifeboat.
Award-winning pipers and a stream of visitors welcomed the sailors ashore.
Local resident Cathie Strother told me: "I think everybody's excited, everybody's talking about it [saying] there's one coming in this morning, so the harbour master tells you."
"Everybody wants to come down and see it."
The harbour master estimates that 22 ships called in at Campeltown on their way to Greenock.
However the number returning is much smaller as the sailors seem to have an ambition to get a few nautical miles under their belts.
Stephen Scally said: "It was quite a lot and it was great for the town. We had a lot of townspeople down seeing them.
"Hopefully we'll get a few more this week as well for the visitors."
No estimates have been placed on how much the visitors are worth to each of the ports but Greenock's three days of festivities were thought to be pulling in £8m.
Visitor Annie Wilson, on holiday from Lanarkshire, came into Campbeltown to see the ships.
She said: "Well, we're going to come here and have our tea now.
"That's what they want, us to spend our money here."
Amateur photographers have also been flocking to the quayside to capture a snap.
Oban, Ullapool, Kirkwall and Fair Isle are among the places expected to welcome the ships as they make their way north.
Related Internet Links
The BBC is not responsible for the content of external sites.