Crash diet for the Royal Bank of Scotland
Douglas Fraser
Business and economy editor, Scotland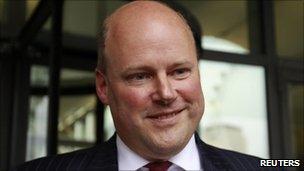 It's a milestone worth noting in the hard slog that is - we all hope, as shareholders - the recovery of Royal Bank of Scotland.
At its Gogarburn headquarters, the lender has announced that it's just passed the half-way point of its sale and run-off of those assets it doesn't want or need.
That's a big sale. At the start of 2009, when chief executive Stephen Hester set out on the three-to-five-year recovery plan, it identified £258bn of assets that were deemed "non-core".
These were to be separately managed and run off, sold or ditched. That was 21% of RBS's colossal assets at the time.
The non-core division now stands at £125bn of assets - 13% of RBS's funded assets, and the bank's on course to fall below 10% by the end of this year.
Today, RBS has announced an innovative deal with Blackstone private equity firm to take charge of a £1.4bn commercial property loan book, while taking on 25% of the value of it.
That's quite an attractive reward if Blackstone can find a market for even a part of it.
With the announcement came an update on the rest of the non-core strategy.
It says RBS has exited 24 countries or entire businesses as part of the process.
ANZ Bank in Australia has taken on much of RBS's retail and commercial businesses in Hong Kong, Singapore, Taiwan and Indonesia, with investment banking in Taiwan, Philippines and Vietnam. Much of that was inherited with the calamitous take-over of ABN Amro.
HSBC has bought a retail business from RBS in Kazakhstan. It's sold on its retail business in the United Arab Emirates to Abu Dhabi Commercial Bank. The Korea Development Bank has taken on retail operations in Uzbekistan.
The Bank of Tokyo-Mitsubishi has taken on RBS project finance assets, including power, oil and gas and UK infrastructure.
Commercial and real estate loans and assets in Spain have recently been sold on to Perella. And so it goes on.
That leaves this vast empire sprawling slightly less, with a "strong presence" still in Australia, China, France, Germany, Hong Kong, India, Ireland, Italy, Japan, Netherlands, Russia, Singapore, Spain, Sweden, UAE, the United Kingdom and the USA.
Perhaps not much sign of focus there, but this is a slimmed-down bank half way through its run-off programme, and half way through the time limit it set itself for turnaround.
The focus can now turn increasingly to how RBS is sold off.
Stephen Hester wants to get that under way as soon as possible - at least a small element of it as a symbolic start to RBS returning to financial health.
It's not looking imminent, while our collective investment remains a long way below water.
Closing below 36p today, the RBS share price is a long way short of the 51p it needs to reach for the UK Treasury's stake to be in profit.
And it's not helped by the continuing exposure of RBS to its bond holding in the deeply troubled eurozone.