The Scottish economy's bumpy ride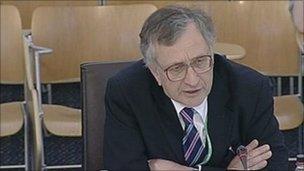 Reasons to be cheerful, part three: the Bank of Scotland's labour market barometer is registering another month of improvement.
That's on the back of employment figures last week, and purchasing managers both saying things continue to be on the up.
A caution though, is that there's a fairly consistent picture that the upward swing is slowing a bit.
That much is worth keeping in mind when Scotland faces the most recent growth figures this week.
Due out on Wednesday, the Gross Domestic Product (GDP, though technically speaking, it's a measure of gross value added or GVA, but let's not get too technical about it) covers the first quarter of this year.
A lot of water has flowed under the bridge since then, with some aspects of the economy getting better (the jobs market and exports), others showing marked signs of deterioration (retail and consumer confidence), some rumbling threateningly in the background (public sector cuts) and some at rapidly growing risk of exploding hideously (the euro and US debt crises).
But at least the figures will give some indication of how Scotland's economy is faring when set against its dominant benchmark - the UK as a whole.
Prepare for disappointment
The UK saw a 0.5% decline in output in the final quarter of last year, followed by a disappointing 0.5% growth in the first quarter of this year. Its second quarter figure is due out later this month.
Scotland's Q4 figure for 2010 was 0.4% - better than the UK, but hardly something to crow about.
One person who probably has a better clue than most about what to expect with the Q1 Scottish figures is Andrew Goudie, who retired from his job as chief economic adviser to the Scottish government on Friday.
Before his departure, he updated ministers on the State of the Economy. The rest of us can see it online at the Scottish government website. It's a very useful and clear update covering recent developments in world, UK and Scottish economic indicators.
His view of Scotland's economic prospects are that: "Quarterly Scottish GDP growth is likely to remain volatile for the foreseeable future, as the economy continues towards recovery and a return to trend growth.
Dr Goudie continues: "This is normal during the recovery stage of a recession, but given the nature of the downturn and temporary factors such as the adverse weather and the extended Easter vacation, such a phenomenon is likely to be even more pronounced in the next few months".
I'd interpret that as a warning to ministers to prepare for disappointing news.
Incidentally, Dr Goudie's parting assessment includes an interesting observation about Scotland's growth rate before this current downturn.
He points out that between 2004 and 2007, the Scottish economy grew faster than the UK's for three out of four years. Following some changes to the methodology introduced last year, Scotland's economic performance was better than previously thought.
So good news for the Scottish economy. But it's another voice, added to the Centre for Public Policy for Regions at Glasgow University, undermining the central Purpose (yes, with a capital P) of the SNP government elected in 2007.
That purpose was to get the GDP growth rate up to UK levels.
That government finds it unhelpful, therefore, to be told - now by its chief economic adviser - that this had already been achieved on the watch of its predecessor government.
It's not at all clear that any government with Holyrood's powers can take credit for good growth figures, or the blame when they turn bad.
But it's odd that apparently good economic news gets ignored.