Rise in Scottish cancer rate for middle-aged women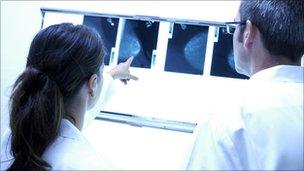 Cancer rates for middle-aged women in Scotland are higher than the average for Britain, with about 10 new cases being diagnosed every day, a study has revealed.
Figures from Cancer Research UK showed that 3,537 women in Scotland, aged between 40 and 59, were diagnosed with cancer in 2008.
This was equivalent to a rate of 476 per 100,000 women.
This compared with a rate of 459 for England, Wales and Scotland combined.
The charity's study looked at all types of cancer, except non-melanoma skin cancer, and revealed an increase of about 1,000 new cases annually since the 1970s, with 2,563 women aged between 40 and 59 diagnosed with cancer in 1979.
The figures showed that, across Britain, cancer rates for middle-aged men and women had gone up nearly 20% during the last 30 years.
In 1979, the average number of new cases was 44,000. The number for 2008 was 61,000 - an increase of 17,000 average cases in a year.
However, the charity said survival rates had doubled since the 1970s.
Cancer Research UK also said the increasing number of people being diagnosed with cancer was, in part, due to the NHS breast screening programme and tests for prostate cancer.
John Fyall, the charity's spokesman for Scotland, said: "There has been great progress in the treatment of cancer since the 1970s and many more people in Scotland are now surviving the disease.
"Thanks to the generosity of local people, we are able to support the work of doctors, nurses and scientists who are dedicated to beating cancer by understanding its causes and investigating how best to prevent, diagnose and treat it.
"But we must redouble our efforts so that cancer survival becomes the norm for patients, irrespective of the type of cancer they have or their age at diagnosis."
A new TV advertising campaign is being launched by the charity using real people and stories on surviving cancer to urge people to continue donating.
Judy Greig, 58, from Perth, said the message behind the advertising campaign was all too real.
Mrs Greig, who was diagnosed with ovarian cancer in June last year, said: "I was devastated when I was diagnosed with cancer. But thanks to research, I am here today.
"I took part in Race for Life for the first time this year because I wanted to give something back."
The mother-of-two, who has had surgery followed by six months of chemotherapy, added: "I hadn't realised how many women in their 40s and 50s are being diagnosed with cancer but when I looked around at Race for Life, I saw so many others like me, who were celebrating their own survival by taking part.
"Sadly, there were also many women wearing back-signs dedicated to the memory of loved ones lost to the disease."
Related Internet Links
The BBC is not responsible for the content of external sites.