Glasgow-Edinburgh divide on school qualifications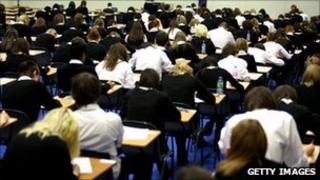 More than a third of people in Glasgow North East have no school qualifications.
A table published by the University and College Union (UCU) showed 35.3% of those of working age left school without passing a single examination.
The result gives the area the lowest rating in the UK.
Every Edinburgh constituency was placed in the top third for educational achievement. Every constituency in Glasgow was below the British average.
The best result in Scotland was for West Aberdeenshire and Kincardine, where only 4.4% of people had no qualifications.
UCU said its findings showed the "extreme" differences across the country. It ranked areas defined by UK parliamentary constituency.
'Full potential'
Sally Hunt, UCU general secretary, said: "There is a clear Glasgow-Edinburgh divide in Scotland - one city with education and the massive personal benefits it can bring, the other without.
"There is a real danger that children growing up in places where it is not unheard of to have no qualifications will have their ambition blunted and never realise their full potential."
The Scottish government has defended its record on education.
A spokesman said: "The Scottish government is committed to raising attainment and ambition across the board.
"We want to ensure that every child and young person in Scotland has the best possible chance to succeed."