Scotland team in Homeless World Cup victory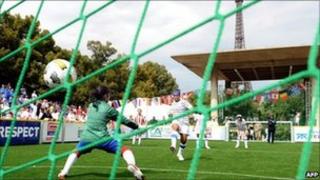 The Scotland team has won the final of the Homeless World Cup in Paris.
The Scots secured the trophy with a 4-3 victory over Mexico, who had qualified for the final for the first time.
The competition has brought together teams of homeless and marginalized players from 64 countries around the world.
This was Scotland's second success in the competition, which was started in 2003. A team from Scotland were champions in 2007.
Ally Dawson, the Scotland team manager, said: "What a wonderful result. The team has done themselves and Scotland proud and deserve every bit of credit they receive.
"The team worked incredibly hard and have beaten the best teams in the world. The players are worthy winners."
David Duke, the chief executive of Street Soccer Scotland, said: "The players went into the tournament determined to do Scotland proud and they have done exactly that.
"There were teams that were technically better but Scotland's players showed a belief, spirit and heart that no other team could match and we are now the world champions. It is a brilliant feeling."
The first Homeless World Cup first took place in Graz, Austria, in 2003.
Mel Young, president and co-founder of the Homeless World Cup, said: "The Homeless World Cup exists to end homelessness. The impact of this competition is profound.
"It has engaged over 100,000 homeless people since it started with participants changing their lives for the better."