Press and Journal newspaper sees daily sales fall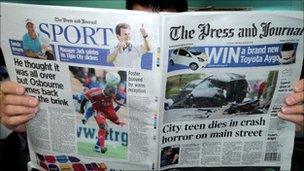 The Press and Journal has fallen below 70,000 average daily sales, according to the latest industry data.
Only two paid-for newspapers emerged as gainers over the past year - Dundee's Evening Telegraph and The Orcadian.
The six-monthly Audit Bureau of Circulation figures cover local titles.
They showed Scotland's bigger city evening papers faced some of the bigger falls over the past year, including the Evening Times in Glasgow which fell 7.8% to average sales of 50,900.
In Edinburgh, the Evening News fell 7.2% to 38,700, with the decline in sales accelerating over the last six months.
In Tayside, the Evening Telegraph rose by 1.6% to 23,500 daily sales.
The Orcadian newspaper gained from the closure last September of Orkney Today, a sister title from the Orkney Media Group.
It put on 212 extra copies, giving it average weekly sales of 9,509.
The fall in the Aberdeen-based Press and Journal was 4.6% over the year to June, reaching an average daily sale in that month of 69,784.
The paper is owned by DC Thomson, and has trialled a move to tabloid format on Mondays to try to stem the fall in sales.
However, its problems are similar to those of other local, regional and national titles.
The Herald, based in Glasgow and included among national titles, this month reported daily sales below 50,000. In Edinburgh, The Scotsman fell below 40,000.
The Courier, with its readership focus on Dundee and Tayside, remained just above the 60,000 mark, after a 4.7% fall over the year to June.
Among other local papers, those that did relatively well in holding on to sales included the West Highland Free Press, based in Skye, and the Fife Free Press, both down by less than 1% in a year.
DC Thomson, which owns the Courier as well as the Press and Journal, has also seen circulation fall in most of its magazine titles.
According to data released recently by ABC, Animals and You, aimed at girl readers, increased sales by 17% in the year to June, reaching more than 32,000.
But the Dundee publisher's best-known title, The Beano, fell in sales by more than 20% to 37,000. The Dandy fell 48% to 7,500.
Bigger circulation weekly titles were also down; My Weekly down more than 7% in a year to 124,700, while People's Friend was down nearly 8% to 268,200.
Damian Bates, editor of the Press and Journal, commented that the June figure reflected a traditionally quieter time of year for the paper's sales, while the average over the first half of the year was above 71,000.
Related Internet Links
The BBC is not responsible for the content of external sites.