Referendum 'most important' bill, says John Swinney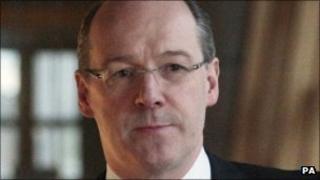 An independence referendum will be the most important measure in the current parliament, Scotland's finance secretary has said.
John Swinney's comments came after the SNP decided against a referendum bill in its 2011/12 programme for government.
The poll is scheduled to be held in the second half of the Holyrood term.
Opposition parties claim the SNP is scared of losing the vote, if it was held now.
Mr Swinney told BBC Radio's Good Morning Scotland programme the government had announced a series of important measures in its legislative vision.
But he said of the referendum: "For me, it's the most important, because what it does is it enables Scotland to realise its full potential which it is currently hampered from doing.
"I think anybody looking at the record of the SNP government over the past four years, in the context of the first minister's statement yesterday, they will see that we are a government driven by ensuring Scotland's prosperity and success, and we do that by focusing on the economy and delivering an agenda for growth and prosperity for all of our citizens."