Scottish teachers in strike ballot over pensions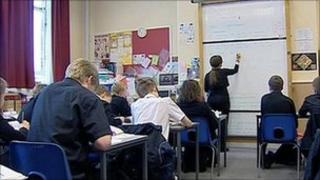 Members of Scotland's largest teaching union are to be balloted on strike action over proposed changes to teachers' pensions.
The Educational Institute of Scotland (EIS) is to recommend that its members vote in favour of a strike, with action set to begin in November.
Its executive committee agreed to send out ballot papers later this month.
EIS general secretary Ronnie Smith claimed teachers had already taken their fair share of pain.
The decision comes after an EIS sub-committee recommended balloting its members over UK government proposals to increase pension contributions while reducing the amount teachers will receive in retirement.
The Scottish government is believed to be in talks with the UK government over those proposals, but has yet to decide whether to adopt them north of the border.
'Painful hits'
In January, the Scottish government commissioned Prof Gerry McCormac, of Stirling University, to review teachers' pay and conditions.
His report is due to be published in the next few weeks.
However, power over pensions is not devolved and the Scottish government's proposals will have to be agreed by the Treasury in Westminster.
Mr Smith said: "Scottish education and Scottish teachers have taken a series of painful hits in recent years as the result of a financial crisis that was not of their making.
"Education budgets have been trimmed to the bone, and teachers have reluctantly accepted a pay freeze and changes to their terms and conditions which have saved the government £45m this year alone.
"The message that is being sent today is that teachers have already taken more than their fair share of pain for the mistakes of the government and the banks, and we are not prepared to accept any more."
Teachers already agreed to use industrial action to resist any deterioration in their conditions of service at the EIS's AGM in June.