Michael Moore calls for SNP answers on independence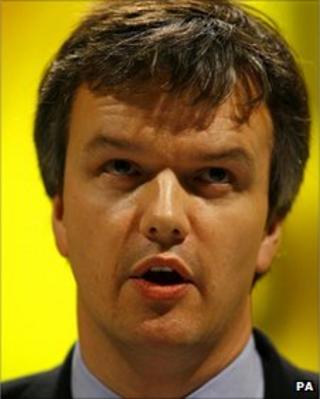 The SNP should stop dodging questions on independence and start providing the answers, a UK government minister has said.
Scottish Secretary Michael Moore said the public had a right to know what the nationalists were "plotting".
The SNP-government at Holyrood plans to hold a referendum on independence in the latter part of its five-year term.
Mr Moore will tell the UK Lib Dem conference that the case for Scotland going-it-alone had not been set out.
The Lib Dem MP for Berwickshire, Roxburgh and Selkirk will speak to the party gathering on Wednesday.
Mr Moore will tell them the Scottish government will have to "come to the front, take responsibility and answer the questions".
He said that three weeks ago he asked six "simple questions" about plans for an independent Scotland.
They included:
bank regulation
pension payments
the national currency
membership of international organisations
Scotland's defences
costs of independence
Mr Moore claimed he had received no answers to those questions.
He said : "We will continue to ask those questions until they [the SNP] provide the answers.
"We, all of us, have a right to know.
"Because what the SNP is plotting and scheming behind the doors of St Andrew's House is to change the very nature - the very fabric - of our country.
"So, we won't let them lurk, skulk and shout from the back of the class."
Mr Moore's scheduled address to conference comes in the wake of his party's plans to set up a commission to look at handing more powers to Holyrood.
The move over future financial controls would go even further than the current Scotland Bill.
A spokesman for First Minister Alex Salmond said: "The fact is all of the issues raises by Mr Moore have been dealt with in detail by the Scottish government's white paper published way back in 2009 - the key question for the Lib Dems is whether they support the right of the people to choose Scotland's future in a referendum?"