Scottish fundraiser pedals on despite broken bones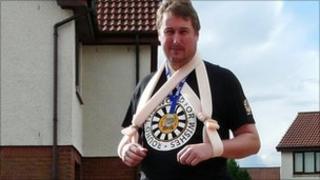 Fundraiser Simon Aston from Livingston carried on cycling for more than 20 miles in a charity event in spite of breaking both his elbows in a fall.
He was part of a team cycling 47 miles from Glasgow to Edinburgh to raise funds for Round Table Children's Wish.
A few miles after his fall, Mr Aston was checked over by paramedics.
He took pain-killers and completed the event, in spite of being unable to grip the handlebars or use the brakes on his bike.
Mr Aston checked into casualty when he could not hold his pint properly during post-race celebrations.
''We had been cycling at around 30 miles per hour so the crash was high speed and high pain," he said.
"I knew instantly something was wrong because when I got back on I couldn't bend my arms or grip the handlebars.
"Every bump in the road left me in excruciating pain.''
Injuries
After the event Mr Aston was diagnosed with two fractured elbows.
Both arms are now in slings and he can't drive, feed himself or write for the next six weeks. His heavily pregnant wife has to help him with simple tasks.
But Mr Aston said he would do it all again.
He explained: "We've raised over £2,600 for an amazing charity - you can't help but be moved by the stories of the wishes they grant and I am very proud to be able to help."
This year marks the 21st birthday of national charity Round Table Children's Wish, which helps children with life-threatening illnesses.