Douglas Alexander in no rush to share Cameron platform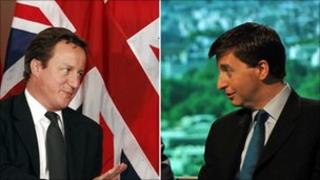 A leading Labour politician has said he would not "rush to share a platform" with the prime minister in a campaign against independence.
Shadow foreign secretary Douglas Alexander made public his views during a BBC Radio Scotland interview.
His colleague, shadow Scottish secretary Ann McKechin, did not give a clear answer when asked the question.
The SNP government plans to hold a referendum on independence later on in its five-year term.
Mr Alexander, who is currently in Liverpool for the Labour Party's annual conference, was quizzed on a number of issues during the Good Morning Scotland programme interview.
Labour, along with the Liberal Democrats and the Conservatives, are pro-union parties which will fight the independence referendum.
But Mr Alexander refused to confirm his position on campaigning alongside David Cameron and the Tories once the referendum is called.
The Paisley MP he said: "In relation to a coming referendum campaign at some point in the future when the SNP and others decide that the timing is right according to their own logic, I think we first of all need to set the arguments before worrying about setting out the chairs on the platform.
"There is plenty of time to have the discussions as to what form a referendum campaign would take."
Mr Alexander said Labour's first responsibility was to set out the case for the role of Scottish Labour in Scotland's future, and get back to arguing the case for why the SNP and Conservatives were "getting it wrong".
He added: "I am not rushing to share a platform with David Cameron for all the reasons I have just explained."
Shadow Scottish secretary Ann McKechin was also asked whether she would campaign with Mr Cameron for the union.
She replied: "I am not into hypothetical questions - any campaign has got to come from Scotland with Scottish voices, that's the clear priority. I'm not saying what will happen in the tactical direction of any campaign which will come many months down the line."
When it was put to her that Shadow Defence Secretary Jim Murphy has said he would not stand on the same platform as Mr Cameron she repeated: "I'm not getting into a conversation into hypotheticals".
Ms McKechin added: "I certainly expect the PM to make an argument for why Scotland is better within the union."