Scottish Sunday papers make modest sales gains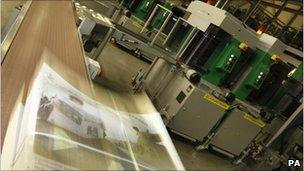 The two most popular Sunday papers based in Scotland have only reaped modest benefits from the closure of the News of the World, according to the latest official sales figures.
Sales of the Sunday Mail and the Sunday Post last month were only up slightly on September 2010.
The Sunday Mail sold 400,106 copies a week last month - up 12,000 on the year.
The Post sold 324,554 - up just over 1,000.
Both figures include sales south of the border and overseas.
Some of the Sunday tabloids based in England have attracted new readers in Scotland since the News of the World closed in July, although their sales north of the border remain modest compared to the Mail or the Post.
Both the Mail and the Post have put on readers since July, but the annual trend is seen as more significant in the industry.
South of the border, the Sunday Mirror, Sunday People and the Daily Star have all seen substantial rises in their sales over the past four months.
One possible explanation for the lower gains in Scotland is that a number of News of the World readers also bought the Sunday Mail or the Sunday Post, so may simply be buying one fewer title now.
Among daily papers, the now familiar picture of monthly sales decline continued.
The Herald fell to 46,797 - its lowest sales figure in modern times. Last September it sold 53,348 copies a day.
The Scotsman sold 39,428 against 43,435 in September last year. Around 3,500 of these sales were so-called multiple sales - copies given away at airports and hotels.
The Daily Record's rate of decline has generally been slower than that of the two quality titles. In September it sold 298,010 copies a day - 270,000 of them in Scotland.
The Sun sold 314,086 north of the border while the Daily Mail's circulation was 115,598.
Among the serious Sunday papers, the Sunday Herald sold just 29,159 copies a week, suggesting that it is still struggling to win back readers after its relaunch as a news magazine in January. Its sales have hovered between about 29,000 and 32,000 in recent months compared to 42,000 before the relaunch.
Scotland on Sunday had a circulation of 49,112 compared to 55,949 in September last year, while Scottish sales of the Sunday Times declined over the year from 61,817 to 52,593.
Related Internet Links
The BBC is not responsible for the content of external sites.