Abertay University future talks 'need to be public'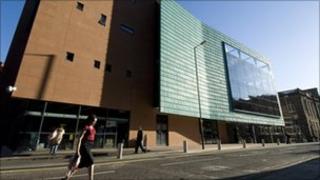 Staff at two universities threatened with a merger have called for a "public dialogue" on the future of the institutions.
There were claims in September that the Scottish government was planning a merger of Abertay and Dundee.
Education Secretary Mike Russell has now been invited to address a meeting on the future of the universities.
The open letter to Mr Russell acknowledges that the threat of a "forced merger" has been withdrawn.
Abertay has 4,250 students, making it one of the smallest universities in the UK and it is located close to Dundee University, which has more than 17,000 students.
With only a minority of its income coming from sources, such as research grants and overseas students, it depends on 60% of Scottish government funding.
'Ambiguous language'
The letter to Mr Russell was written by Dr Andrew Samuel, of Abertay University and College Union (UCU), and supported by Dundee University UCU as well as the student associations at both universities.
It asks Mr Russell to open "a public and constructive dialogue on the future of post-16 education in Tayside" after calls that the two universities "work closer together".
Dr Samuel said: "The representative groups for students and staff at the universities... acknowledge that the threat of forced merger has receded, due to the government's welcome public statements.
"Nevertheless, we are rather anxious that the continuing language used in discussing the future independence of Abertay and Dundee as universities, and collaboration between the institutions, is rather ambiguous."
The letter also says that staff have been "very alarmed" over the lack of consultation or discussion.
Dr Samuel added: "In our view, full consultation must take place with not only staff and students, but also the wider civic Dundee interest, at a speed which allows for any dialogue to be properly facilitated, as it is precisely these groups whose cooperation is essential to ensure any collaboration succeeds."
The meeting has been scheduled for 19:00 on 4 November, in the main lecture theatre at Abertay University.