Fergus Muirhead answers your consumer questions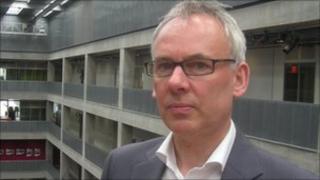 I'm Fergus Muirhead and I'm here to answer any questions you may have about any money or consumer issues.
Please drop me a line here at fergus@bbc.co.uk with your questions.
You can also read more on money and consumer issues on my own blog.
Q. I have decided to change my Gas and Electricity provider from Scottish Power to N-Power and have been advised by Scottish Power that since I am on a capped deal there will be a £51 cancellation charge. Is there any justification for this? Alf Jones
Scottish Power has informed me that certain tariffs do have a cancellation charge. They went on to say that "Capped and Fixed Price products offer customers the benefit of knowing that their unit prices will not rise above a certain level for an extended period of time. As this is a long-term guarantee, and we may apply a cancellation charge on our product if the customer switched before the end of the guarantee term period. This information is given to customers in advance of them taking on a tariff". You can use this link http://www.scottishpower.co.uk/products/capped-price-energy.aspx to have a look at their current Capped offer, with details of the cancellation charge. So while it looks as though the cancellation charge was correct, your question was if there was a justification for this charge and my answer would have to be no, since these types of charges are designed to stop you moving provider and taking advantage of new offers. What this also highlights is the need for these companies to ensure that customers are aware of all potential charges at the point that you sign up for a new contract, since any benefit gained by switching could be lost if you don't stick with the new deal right to the end.
Q. If I give money to my grandchildren to help them with student fees while they are at university, will this be regarded by HMRC as gifts when it comes to calculating the Inheritance Tax liability on my estate? Rosemary Stewart
The short answer to this question is yes, although whether it will result in your estate having an Inheritance Tax liability will be down to how long you survive after you make the gift and the total value of your estate on death. You also need to think about the amount of money you are giving away, since there are exemptions that you can use annually before gifts are assessed for Inheritance Tax and gifts that come from normal income are also exempt from Inheritance Tax.
Q. On 29th December 2009 I purchased an HP laptop from PC World. I did not take out the extended warranty. In March 2011, four months after the one year warranty expired, the mainboard gave up the ghost, and I had the laptop checked at a local dealer. Do I have the right to invoke the Sale of Goods Act, and ask for either a replacement or a refund? Andrew Sharp
When you buy something like a laptop there are two ways that you are protected if something goes wrong. Firstly, as you say, you were provided with a warranty from the manufacturer that lasts one year from the date of purchase. On top of this, and not instead of, you are also protected by the Sale of Goods Act, which says that the goods you buy have to be 'fit for purpose, as described, and of satisfactory quality'. If something goes wrong in the first six months then there is an assumption, unless the retailer can prove otherwise, that the fault was there at the point of sale. If the fault appears later, as in your case, then you need to be able to show the retailer that the fault is due to a defective computer rather than to wear and tear, and it may be that the report you got from your local dealer supports this. You should take the report to the shop and explain that the life of your computer motherboard should be more than16 months and that you feel that the computer must have had some sort of fault from the beginning, and you would like it to be dealt with. It would be useful to do some research before you go to find out the expected life of the motherboard on your machine. You can make a claim under Sale of Goods legislation for up to six years from the point of sale in England and Wales, and five years in Scotland.
Q. Wonder if you could advise. I am looking to retire at age 56, in January 2012 (4 years early). I work as a part- time practice nurse, and am married - my husband works. The Scottish Public Pensions Agency estimates my standard pension will be £9,500 and lump sum of £30,500 (no commutation) and £7,700 pension and lump sum of £51,500 (with max. commutation). We also have a joint personal investment plan currently worth approximately £23,000. I have an appointment to see an independent financial advisor soon, but would welcome any general pointers/advice you could offer. Joan McEwan
The best thing about this question is that you have taken the time to ask it before your upcoming meeting. This makes it more likely that you will get the most out of your meeting since you will be prepared for it. You need to be thinking about what it is you want your money to do for you not just now, but into the future as well. So the starting point, and the work that you should do before your meeting, is to assess the income that you need now and on an on-going basis as well. So make a list of any debts that you have - mortgages, personal loans, car loans, credit cards etc. and assess whether you can pay any or all of them off with some or all of your lump sum (you give me details of your pension but not that of your husband so a big part of the work is to look at his income into the future as well and when he intends to take his pension lump sum and income, assuming that he has one). Then have a look at your regular monthly outgoings, remembering to add all of the expenses that may only happen once or twice a year, like holidays, insurance renewals and Christmas! You should have an idea of how much you need every month, and how much of that can come from your husband's income and your pension. You will know whether there is any left over at the end of each month, or if you are spending more than you are earning. You also need to work out exactly what it is that you want your adviser to be doing for you, and that's not as stupid as it sounds. Is he or she helping you put together some sort of plan to show you how to get what you need out of all of the assets that you have from now on (and there's another bit of work you can do to prepare - make sure you have a note of all of your existing assets to hand), and will you need to review them on a regular basis. Let me know how you get on.