Sexual partners of STI patients 'should be traced'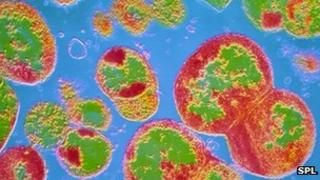 More should be done to trace the sexual partners of people being treated for sexually-transmitted infections (STI) in Scotland, according to a report.
Healthcare Improvement Scotland warned disease was being spread because many people were unaware they were at risk.
It urged health boards to improve systems for recording patients' consent for sexual partners to be notified.
The report praised a more "integrated" approach among medical specialists, and success in targeting at-risk groups.
The authors reviewed all NHS boards to monitor progress on new sexual health standards, adopted in 2008.
All but one board was found to have integrated services, breaking down barriers between specialists within the health service.
Work with other professionals such as social workers, teachers and youth workers had also improved.
But the report, Improving Sexual Health Services in Scotland: Integration and Innovation, noted that "contact tracing" (the notification of sexual partners) was "generally weak".
'Undesirable consequences'
Dr Rak Nandwani, who helped compile the report, said: "Our challenge is to make sure that everyone of any age and background who is at risk should have access to the information and services that promote and protect sexual health.
"There are many positive aspects of sexuality, but we need to acknowledge some of the undesirable consequences including sexually transmitted infections and unintended pregnancy."
NHS boards which had a centralised system for recording and following up consent for partner notification were more successful than those with a variety of systems.
The report also recommended that men who have sex with men should have a choice of where they are vaccinated for hepatitis B, and not be restricted to specialist sexual health clinics.
David Bingham, of the Terrence Higgins Trust Scotland, was involved in the review and praised health boards for taking an innovative approach.
He said: "This willingness to try new things is genuinely inspirational to third party players such as Terrence Higgins Trust Scotland.
"We are looking forward to helping the health boards tackle some of the challenges that continue to be stumbling blocks, such as the issue of partner notification and the education and support of hard to reach groups in society."