MSPs clash over strike day plans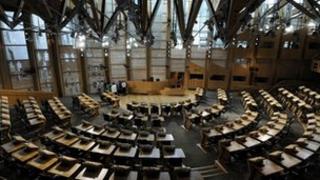 MSPs have clashed over how they should respond to public sector strikes planned for the end of the month.
Labour and the Scottish Greens tried to clear the parliamentary timetable for 30 November.
That is the day on which almost three million UK public sector workers are expected to take industrial action.
But the SNP criticised the plan, insisting it was every MSP's duty to be in parliament to send a message to the UK government and wider public.
The row was instigated by Patrick Harvie of the Greens, who looked for assurances that no member of staff would be compelled to cross a picket line on the day of unrest.
But Labour's business manager Paul Martin escalated it by accusing the SNP of letting down the unions.
He said: "It is unacceptable that these public sector workers are being asked to pay the price for a crisis that is not of their making.
"Instead of taxing the bankers, the UK government has taken the decision to attack the hard-earned conditions of workers, like cleaners, teachers and nurses and many more."
He said MSPs should strike in solidarity with them.
All three contenders for the Scottish Labour leadership have said they will not attend parliament that day.
But Bruce Crawford, the SNP minister for parliamentary business, said that MSPs should attend Holyrood on the 30th to debate a Scottish government motion condemning the pension plans.
He said that would be the most effective means of protest.
Mr Crawford said: "This government fully respects the rights of employees who might choose to withdraw their labour, with regards to the day of action planned for 30 November.
"Let me also make it clear the Scottish government is committed to a public sector pension which is affordable, sustainable and fair."
He said the UK government plan to increase employee contributions was a "naked cash grab" to reduce the deficit.
Mr Crawford said there should be a full plenary session at Holyrood to debate the "misguided" approach of the Tory-Liberal Democrat coalition at Westminster.
MSPs backed the SNP proposal by 83 votes to 36, with one abstention.
Scottish Conservative deputy leader Jackson Carlaw said: "Everybody understands the importance of public sector pensions and the fundamental need to ensure public sector employees are provided with a competitive pension.
"The proposed reforms will ensure that public sector pensions are made sustainable while at the same time easing the burden on the taxpayer."
He added: "However genuine the anxiety and concern may be, it cannot justify inconveniencing the whole of the general public by striking over these reforms and is deeply unhelpful when negotiations are on-going."