Celebrity ties for Scottish charity auction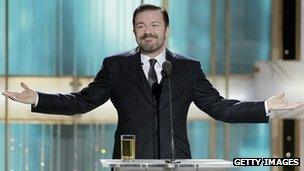 A Scottish cancer charity is holding an auction of ties donated by celebrities such as Ricky Gervais, Scarlett Johansson, Usher and Bruno Mars.
Cahonas Scotland said its eBay auction aimed to help erase the stigma often attached to male cancers.
The charity said all proceeds would go towards helping raise awareness.
Kevin McKidd, Amy MacDonald, Ian Rankin and Kenny Logan are among Scottish celebrities who have already confirmed donations.
Bidders will have the chance to own items such as a signed tie worn by comedian Ricky Gervais at the Golden Globes 2011 and a tie worn by Bruno Mars on Saturday Night Live.
Signed ties have also been donated by Sopranos star James Gandolfini and actor Scarlett Johansson.
Cahonas Scotland founder Ritchie Marshall said: "The auction marks the first public fundraising venture event for Cahonas Scotland and we are both thrilled and humbled at the support we've received from our celebrity donors.
"Male cancer awareness in Scotland desperately needs a boost and with the generosity of the people of Scotland we will be able to help get the message out wider than before."
Related Internet Links
The BBC is not responsible for the content of external sites.