Record BBC Scotland views amid storms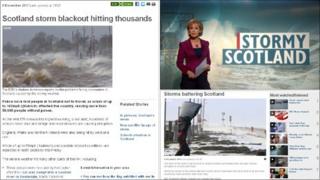 The storms which battered the country on Thursday swept in almost a week's worth of traffic to the BBC Scotland news website in a day, figures show.
The severe weather also saw the highest audience of the year for Reporting Scotland so far.
Across the website coverage, there were more than 8 million hits from 2.9 million unique users. The weekly average page views are 9.3 million.
The Reporting Scotland evening bulletin achieved an audience of 855,000.
Radio Scotland also provided enhanced travel and weather bulletins, extended live coverage and extended news bulletins.
The millions of web users accessed coverage ranging from stories, to a live page, school closure information, picture gallery and video reports.
Reporting Scotland's lunchtime and late bulletins also performed well above average, with audiences of 517,000 and 475,000.
John Boothman, BBC Scotland head of news and current affairs, said reporting and production teams had "pulled out all the stops".
He added: "We were out and about reporting from many locations across Scotland, keeping our audiences in Scotland, the rest of the UK and across the world up to speed.
"Across radio, television and online, BBC Scotland delivered an outstanding service on a day when the public were desperate to know the latest twists and turns as the storm hit and also during its approach and aftermath.
"Our travel and weather service on BBC Radio Scotland was unrivalled with many additional bulletins produced throughout the day and night so our audiences had the best information possible."