Recession fuels demand for Citizens Advice Scotland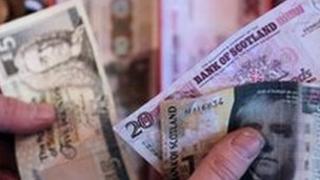 Citizens Advice Scotland (CAS) has said the recession is responsible for a significant increase in its workload.
Figures released by CAS for 2010-11 showed people approaching it for help every minute of every day.
Problems concerning debt made up 26% of all Scottish cases for Citizens Advice.
A major part of its work also concerned the Employment and Support Allowance. Cases involving this allowance were up by 33%.
A total of 560,303 issues were raised with Citizens Advice in Scotland during the period covered by the CAS "Advice in Scotland" report.
This is an increase of 15,000 on the previous year.
CAS said it was dealing with the increased workload at a time when funding for the service was being squeezed.
Head of Policy Susan McPhee said: "Financial advice has always been a big part of what we do, but there has been a huge growth in the number of people struggling with debt and low income.
"Prices are rising all the time - for example, fuel bills - and people's incomes are just not keeping up with that, so many of them are turning to loan sharks and payday loans, which of course make their situation even worse.
"The figures in the report tell the bare facts of the story, but of course behind the statistics are real people.
"Our advisers see the real human face of these problems every day."