Creating a new high street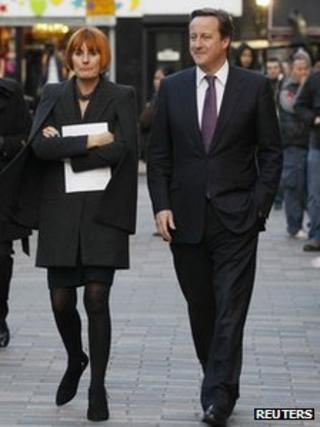 Maybe it's the weather, or maybe you can offer other reasons Scots don't do much market trading.
I tried it once - in Barnsley, for a television documentary. I was demonstrating, quite convincingly, how poor Scottish sales patter can be.
So the idea of a National Markets Day, to celebrate market trading and giving an opportunity for anyone to give it a try, is one aspect of Mary Portas's review of the high street - for the UK government and aimed at England - that may not cross the border.
But it would be unwise to ignore the rest of the new report from TV's Mary Queen of Shops, just because she's not Mary Queen of Scots Shops.
Biggest fall
Not when its publication yesterday is followed today with the biggest fall in monthly sales figures that the Scottish Retail Consortium has published in 12 years of surveys - total November sales down by 1.3% on the same month last year, and non-food sales down by 3.3%.
These cover out-of-town large-scale retail, but it's worth noting that, for the first time I can recall, these monthly figures are being challenged by the Scottish government, pointing the media to more favourable numbers from an alternative survey.
It's true that the SRC fails to account for the shift to online shopping, while the Scottish Sales Index does. But the SSI registers only 0.5% growth in sales in a year, which is at least positive, but it's hardly cause for the sector to celebrate.
And it's telling that the political heat around the state of the economy means the blame game between political parties is now being played around retail, over which the Scottish government has limited control.
St Andrew's House does, however, have a lot of say over how to manage the decline of high streets. Its response has been largely about easing retailer costs through its bonus scheme for smaller businesses.
There was a town centre regeneration fund, for which Scottish Tories took credit in the budget process, but it was seen by recipients as lacking either the scale or consistency to have much effect beyond a lick of paint.
Learning and fun
Mary Portas points out the obvious: that the high street has changed, but what's important is her stress that it's done so forever.
Accompanying statistics show about a third of English high streets are degenerating or failing.
And Portas is clear: we need fewer shopping streets, and planners need to re-designate them for other uses.
Shopping units need to become places to meet and socialise, for learning and having fun, to provide work spaces and shop windows for the self-employed and home-workers.
Affordable shops
There are elements missing from the report. With the exception of one nod in the direction of France's planning restrictions on out-of-town retail, there is little evident attempt to learn how continental Europe keeps its shopping streets alive.
The analysis - which is unusually and refreshingly personal for an "official" report to government - toys with a full-on assault on the supermarkets, but shies away on the basis that it would be "naive".
And it accepts consumer behaviour and love of convenience as a given, without challenge: in avoiding blame, it shies away from a challenge to consumers to take responsibility for the way shops now are.
But it does suggest that large retailers should mentor smaller ones. And supermarkets should report on what they're doing to support local high streets.
The freight industry has welcomed a call for relaxed rules on night-time deliveries.
And the British Retail Consortium has, predictably, said it doesn't like the suggestions of a new requirement of ministerial sign-off of out-of-town developments, or of a requirement on mall builders to include a mix of "affordable shops".
Most of the reaction so far seems to have been about parking.
But it may need bigger picture thinking from all those who have an impact on the shape of retail and its role at the heart of communities; governments, businesses and - perhaps above all - shoppers.