Ice and snow warning on Scotland's roads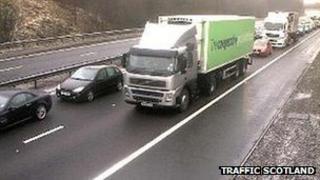 Warnings of icy conditions on the roads across large parts of Scotland have been extended through until Tuesday.
The Met Office said driving could be tricky in the evening and overnight as skies clear and the risk of ice increases.
The alert covers most of mainland Scotland and the Western Isles.
Monday morning saw several accidents, road closures and restrictions due to black ice. Snow and sleet has also been falling on higher ground.
Much of Perth and Kinross, arterial routes in Glasgow and parts of Dumfries and Galloway and the Borders were most at risk from snow and ice.
Transport Scotland's Multi Agency Response Team (MART) was open during the Monday morning rush hour to monitor the situation.
Transport Minister Keith Brown said the use of MART was in keeping with the Scottish government's "no room for complacency" approach.
He added: "Having Transport Scotland, the police, rail operators, road operating companies and the Met Office working side by side and agreeing messages for the travelling public has worked well so far, but we must stay sharp and keep up the good work.
"In the run-up to Christmas, the pressure to keep our transport network running as effectively as possible is even greater than usual - businesses depend on roads and rail for deliveries and the public will obviously be out in numbers doing their Christmas shopping.
"Disruption can never be ruled out, but we have taken a wide range of steps to ensure that Scotland is as well prepared as it can be."
Those steps include working with the Road Haulage Association and Freight Transport Association to update guidance on planning for severe weather.
A hotline has also been introduced so HGV drivers can contact Traffic Scotland to inform them of traction problems they experience on the network.
Mr Brown added: "I would urge the public to continue listening to radio reports and checking the Traffic Scotland website for updates."
The enhanced content on this page requires Javascript and Flash Player 9
Map Key
Land
Cloud
Lakes, Rivers & Sea
Fog
Light
Heavy
Frost
Light
Heavy
Pressure Fronts
Cold
Warm
Occluded
Rain
Light
Heavy
Extreme
Snow
Light
Heavy
Temperature tab only
Temperature (°C)
More details from BBC Weather