Going bananas for speedy rail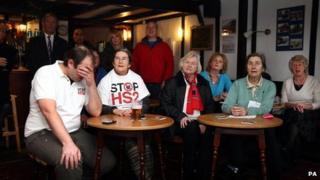 I've been checking myself for symptoms of nimbyism. Or even bananism.
I was wondering how I'd feel if someone drove a high-speed rail line past the bottom of my back garden.
To help with my research, I had a look at a map of Glasgow to see where a new line could be built. And it looks like the second best option would be ... yes, you've guessed - past the bottom of my front garden.
So should I say 'Not In My Front Yard', making me a Nimfy? Or is it time to join those who still fume with resentment at the arrival of the canals in the 18th Century? They're 'Bananas' as in 'Build Absolutely Nothing Anywhere Near Anything'.
Independent rail
I've opted not to lose any sleep over this dilemma for now, as the prospect of a high-speed rail line seems impossibly distant. Those standing on a platform in Leeds or Manchester will have to wait 21 years for a high speed train to arrive, and that's if it's on schedule.
And if Scotland votes for independence in the interim? Well, the Scottish government has already said it reckons it might need £8bn to build the line through southern Scotland.
But what puzzles me is why a post-independence Westminster government would build a line from Manchester to Carlisle, where it would reach the furthest extent of its domain?
Those who doubt the UK government's case, set out on Tuesday, for building a line between London and Birmingham are going to be even more doubtful about the benefits of a colossally expensive link to help out the potential foreigners north of Gretna.
Plus, how do you get a high-speed line into Edinburgh from the south-west? That could involve a lot of front gardens, or a pricey tunnel.
Flights of fancy
The cross-border payment is just one of the problems of going about building so-called HS2 the way it's being done.
(High Speed 2, by the way, is a name badly in need of some brand consultancy. HS2 sounds more like a Twitter hashtag. Instead, how about harking back to British railway roots, with 'the Rocket', or something more modern like 'Whoosh'?).
Network Rail has argued before that the proposal only really makes sense over the full 400 miles that link it to Edinburgh and Glasgow.
Build it in sections, and the advantages of speed don't stack up. The best it can do is increase capacity to relieve congestion in the congested south-east and English Midlands.
But build high speed over 400 miles, and you start making it more attractive to displace air travel. In other words, not many flights will be taken out the sky by building to Manchester, and none at all by building to Birmingham. But with more than 120 scheduled air passages each day between Scotland and London airports, you start to make an environmental case as well as one of convenience.
You'd do even better if you could link the north directly into Heathrow Airport, where the diminishing air links to the north of Britain are a growing problem of connectivity with this global aviation hub.
And one of the cases being made for HS2 in Scotland this week has been that further north would benefit from landing slots being freed up by Edinburgh and Glasgow for better Aberdeen and Inverness links into London airports.
But the HS2 line won't go past Heathrow. Instead, it includes a spur, but only in the second phase - the one that includes Leeds and Manchester, and is targeted at 2033.
Visionary
There's a strong case against the whole project if you value the quiet, traditional village life in the Chilterns, but it looks a rather attractive option further up the line.
And on the crowded day that the pace picked up on the constitutional future of Scotland, this risks being overshadowed in what it could bring to balance economic development across Britain.
Business people understandably fret about the value for money, and whether that money might not be better spent on more heavily used commuter lines.
But Scottish business is (mostly) gung-ho for the benefits it could bring.
The exception is the Institute of Directors. Its London office put out a sceptical statement, highlighting the differing opinions of its membership, and saying that every region of its membership thought improvements to existing rail services are more important.
That doesn't fit so well with the IoD's manifesto for Holyrood candidates last May, which read: "The Scottish government should take a leading role in the development of plans for a visionary High Speed Rail network plan which includes Scotland from the outset."
So am I a Nimfy, a Banana, or, in Glasgow parlance, a meringue?
None of the above. I'm just going to have to be very patient.