Utility firms fined over Scottish roadworks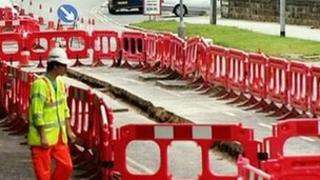 Four utility companies have been issued with fines for failing to reopen Scottish roads on time after setting up roadworks.
Scottish Water, Openreach, Virgin Media and Scottish Hydro Electric Power Distribution have been told to pay £92,500 between them.
The fines were issued by the Scottish Road Works Commissioner as the firms failed to reach an 80% pass rate.
The commissioner said warnings had been given but the firms did not co-operate.
Openreach (part of the BT Group), was fined £38,500; Scottish Water £38,000; Virgin Media £14,000; and Scottish Hydro Electric Power Distribution (part of Scottish and Southern Energy) £2,000.
Commissioner John Gooday said the companies had failed to comply with their obligation to reinstate road openings in line with the national specification.
The results from the Scottish National Coring Report for 2010-11 showed a number of utility companies exceeding the 80% pass rate, showing that it was achievable.
The commissioner has powers to issue penalties up to a maximum of £50,000.
Significant improvements
Mr Gooday said: "I have today issued penalties against four companies for their failure to reinstate road openings in line with the national specification.
"Given the difficult environment in which road works are often undertaken, I accept that 100% compliance is unlikely.
"However, given that the National Coring Programme had been in place for over 10 years, I would have expected to see a pass rate of at least 80% by the point of the most recent programme.
"Penalties have been issued only against those companies whose pass rate was below 80%."
He added that the overall pass rate for reinstatements was up from 64% to 74% and that more recent information showed that some of the firms penalised had showed significant improvements.
"This, and the fact that Scottish utility companies have themselves recently agreed to set a minimum target of 90% compliance for the next national coring programme, gives cause to believe that they are now seriously addressing this long-standing issue," Mr Gooday added.
Reducing disruption
Peter Farrer, Scottish Water's customer service delivery director, said it had made significant improvements and had a 89% approval rate from January to September 2011.
"This penalty will be passed onto those contractors responsible for road reinstatements. The monies will not be taken from customer charges or our investment budget," he said.
He added: "We acknowledge that there is still work to do and since January 2010 we have been holding regular workshops with our contractors and local authorities to help drive improved performance.
"Our work is co-ordinated with local authority roads departments in order to reduce disruption where possible."