Indian snake charmers 'held photographer captive'
By Hannah Livingston
BBC Scotland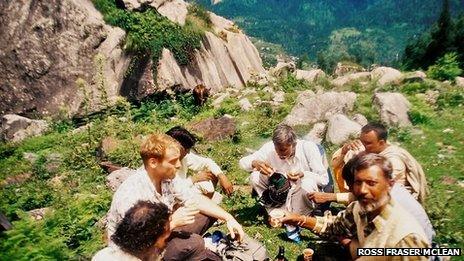 In a darkroom bathed in red light, photographer Ross McLean has been developing pictures in preparation for his latest exhibition.
They are are from an expedition to India - a trip from which the 29-year-old thought he might not return.
Recounting the story of his time in captivity, he told the BBC Scotland news website: "I ended up meeting a guy in quite a touristy part of India, of Delhi, and decided to go back to his house for a cup of chai, and to meet his family and photograph them.
"He'd drawn me in by producing a basket with a snake inside, a King Cobra.
"It turned out that his house wasn't just 10 minutes around the corner - it was actually three-and-a-half hours out of the city in a completely different part of India."
Mr McLean said he was held in an outcast community of snake charmers.
He spoke of being stuck in a village in the middle of the Indian countryside with no way of getting back.
The men who took him, he said, were from a caste - or community of people - who rely on snake charming to make a living.
Snake charming is outlawed in India, but practitioners can still be seen in some tourist areas. It is also illegal to own any snake in the country.
While he was in the village, Mr McLean came across a photocopy of a passport belonging to a Swiss national, along with clothes and a phone charger.
The only name he could remember was "Stefan".
Mr McLean went on: "That was one of the main questions in my head, 'what happened to Stefan'? I guess there was another guy out there.
"We never met, but I do remember sitting and going through all of his stuff one day... things that, even if you were just dashing off, you wouldn't leave."
Mr McLean said he was not physically restrained, but had his money taken by the villagers, some of whom were armed with guns and openly used opium.
He said: "Dependent on how much they'd been smoking... I could kind of gauge my safety on that in a weird kind of way."
Hatching a plan to escape, Mr McLean offered to take his captors on a trip. They took him north.
He thought he had found his opportunity to get away, but found himself escorted by nine men in an area mostly populated with their relatives.
Mr McLean said: "The situation was just out of my control and I had to just accept that and try and build a sense of trust or a bond with each of the people involved.
"After that point, I guess that's when I finally had the power to be able to force my way out of that situation."
Mr McLean said he finally managed to get away when he was able to translate his demands to leave onto paper, in Hindi.
A villager agreed to take him back to Delhi in his taxi.
And what became of Stefan? The Swiss government told the BBC that, in March 2011, one of their citizens was brought back home from India.
The government was not able to release personal information, but said indications pointed to them being the same person.
Back in Dundee, Mr McLean said he hoped sharing his ordeal from last August would stop others getting caught up in the same situation.
He said: "I think that following your instincts is a really key thing.
"I knew, even on the way out there, that it was a bad idea and I went against that.
"But I think following my instincts throughout each situation got me through it."
A selection of Mr McLean's photographs will go on display at Abertay University's Hannah Maclure Centre gallery from 10 February.