Prisoners must work 35-hour week in new Low Moss jail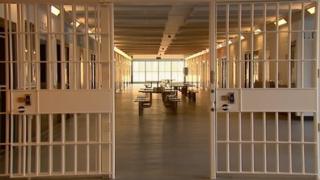 Prisoners in Scotland's newest jail will work from 9 to 5 each day in a tough new regime designed to cut offending.
Low Moss Prison in East Dunbartonshire, will open in March 2012, holding 700.
Its state-of-the-art design will allow officials to cut power to cells during the day.
Six different workshops will see prisoners learning a range of skills, producing goods such as a wooden furniture.
The Scottish Prison Service (SPS) said the jail had been built at a cost of £120m - £8m under budget, and will open on time.
It has been built on the site of an old jail in which 327 men lived in wooden dormitory blocks, which was closed in 2007.
Convicted men and those on remand from north Lanarkshire and Glasgow will serve their sentences there.
Crackdowns
The new jail will ease pressure on Barlinnie in Glasgow which is more than 50% over-crowded.
It has a design capacity of 1021, but held 1537 men on January 20, 2012.
The Justice Secretary, Kenny MacAskill, who toured Low Moss, said it will use modern design and facilities to impose a regime of work on prisoners, and aid their rehabilitation.
He said: "This new building, and the way it is designed, will allow prison management to impose tough new crackdowns on inmates, such as cutting the power to cells during the day and operating a 9-5 working week."
The prison has two accommodation blocks, each three storeys high.
Officers can watch the four wings on each floor from a central desk, meaning fewer staff are required to monitor prisoners in their cells - freeing them to supervise vocational training and courses to aid rehabilitation.
The governor, Michael Stoney, said it was important to build a work ethic among prisoners.
"The importance is to get through to people that they get out of their beds in the morning and have to earn their privileges.
"The money they earn will then be converted to pay for their TVs and any other privileges they have.
"It's as much to try to normalise their routine so they understand what it's like to hold a job in the community."
Power will be switched off in cells at 08:30 and a curfew will operate from 01:00 to prevent prisoners staying up all night.
Low Moss is the first prison built by the SPS since Shotts opened in 1978, although there are two new privately-operated jails, Kilmarnock and Addiewell.
The SPS is building a new jail, HMP Grampian, next to Peterhead Prison, which is expected to open in early 2014.