Scotland making 'good progress' on heart disease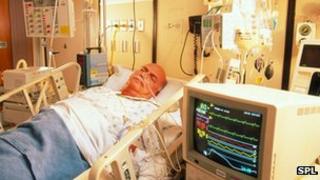 The number of people dying of heart disease in Scotland has almost halved in the past decade, the country's public spending watchdog has found.
But Audit Scotland said the country still had the highest death rate from the disease in Western Europe.
And it warned more work was needed to improve the country's "postcode lottery" on heart disease treatment.
Its report into cardiology services said good progress was being made overall in prevention and treatment.
More than 8,000 people die from heart disease each year, the second-highest cause of premature death.
Audit Scotland's report looked at how effectively cardiology services are run, how much is spent on them and whether patients across the country get the same access to services.
It also examined some services in the community, such as prescribing and prevention of coronary heart disease (CHD).
The report found there had been significant progress in tackling heart disease and developing services, with death rates dropping by 40% in 10 years, more patients getting better treatment and waiting times for treatment falling.
'Deprived areas'
However, it warned the NHS needs to ensure all patients got the services they needed, such as those who may benefit from cardiac rehabilitation and heart failure patients.
And it said that in some more deprived areas about 25% of men over 75 have CHD but, according to Audit Scotland, people in deprived communities "are not always getting the same level of treatment as the rest of the population".
Treatments such as angioplasty, which widens the arteries, or heart bypass surgery are over 20% fewer than expected in deprived areas. The least deprived areas saw over 60% more than expected.
Audit Scotland said this "implies a lower level of access to these treatments for people in more deprived areas".
The report stated: "The Scottish government and NHS boards should monitor rates of the main cardiology procedures, compare these by board and by different groups, particularly in more deprived areas and with other countries, and review whether variation is warranted or if action needs to be taken to ensure patients are receiving the most appropriate treatment."
The report found limited evidence of the effectiveness of the government's Better Heart Disease and Stroke Care Action Plan which set a national target for cardiovascular health checks.
The NHS spends at least £146m a year on hospital cardiology services, but Audit Scotland said this was a significant underestimate due to limited cost information and also did not include general practice and community treatment.
From what information is available, Audit Scotland estimates at least £4.4m could be saved a year by cutting prescribing costs, reducing hospital stays, treating more patients as day cases and using less invasive and cheaper tests to diagnose people.
Auditor General for Scotland Robert Black said: "Heart disease is the second highest cause of death in Scotland. The country needs to continue its efforts to prevent heart disease, including addressing issues such as obesity, smoking and physical inactivity.
"The NHS is making good progress in providing better treatment for more patients. People are living longer with heart disease, and patients are waiting a shorter time for cardiology treatment.
"The NHS needs to ensure services meet patients' needs as efficiently as possible. It should make sure it has consistent and accurate information about cardiology services so local areas can monitor their performance, compare services and identify areas to improve services and save money."
The Royal College of Nursing has highlighted pressure on funding for specialist heart nurses, with NHS Orkney no longer employing one and other boards including NHS Grampian and Borders facing uncertainty about future funding.
Director Theresa Fyffe said: "When it comes to specialist heart-failure nurses, the British Heart Foundation has found that they reduce hospital admissions by 35% and save the NHS £1,826 per patient seen.
"Given the significant benefits that specialist heart-failure nurses bring, health boards which do not employ them or are thinking about cutting them should urgently reconsider this and make sure that every patient who needs their support has access to their expertise and experience."